Morocco MARS2013
Morocco MARS2013
Last modified by
vstix
on 2018/08/17 09:08
---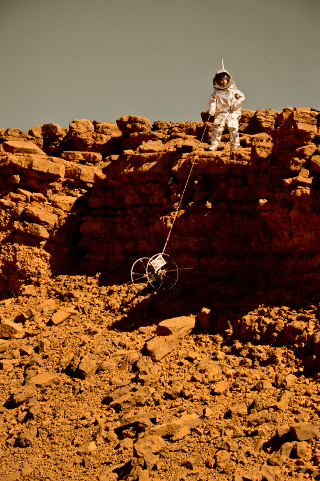 Between 01 - 28. February 2013, the Austrian Space Forum – in partnership with the Ibn Battuta Center in Marrakesh - conducted an integrated Mars analog field simulation in the northern Sahara near Erfoud, Morocco. Directed by a Mission Support Center in Austria, a 10-person field crew performed experiments preparing for future human Mars missions in the fields of engineering, planetary surface operations, astrobiology, geophysics/geology, life sciences and other.
This field mission was
an opportunity to study equipment behaviour involving the simultaneous usage of various instruments with the option of a human-in-the-loop,
a platform for testing life-detection techniques, performing terrain tests for rovers and study concepts of enhancing the situational awareness of remote support teams.
studying the northern Sahara as a model region for Martian deserts and extreme life,
serving as an outreach platform to enhance the visibility of planetary sciences
an opportunity to enhance different mission and activity planning strategies (published papers).
The Mars 2013 final report is available here.
Experiments:
| name | description | organisation | pi |
| --- | --- | --- | --- |
| AMFS-MEDINC | Synopsis: MEDical emergency database with recording of INCidents and near-incidents in all participants during Analog Mars Field simulations (multi-mission project) | Medical University Innsbruck | Univ. Prof. Dr. Thomas J. Luger |
| AMFS-SEG | Synopsis: Stress, emotion and groupdynamics of the crew in the field and the members of the MSC during Analog Mars Field simulations. (multi-mission project) | Medical University Innsbruck | Univ. Prof. Dr. Thomas J. Luger |
| ANTIPODES | Antipodes is an operations experiment where a loss of communication (e.g. satellite is out-of-range) to Earth is simulated. A parallel landing party on the other side of Mars is requested to take over the coordination of an ongoing Extra-Vehicular Activity via their habitat's comms system and relay it to the experiment site via a satellite in Martian orbit until Earth is able to reestablish contact again. | Kiwispace, New Zealand | Haritina Mogosanu / Gernot Groemer / Diego Urbina |
| Aouda MAT | Synopsis: Medical data Acquisition under various physical workload conditions & biomedical data Telemetry (multi-mission project) | Medical University Innsbruck | Univ. Prof. Dr. Thomas J. Luger |
| AOUDA.S | "Aouda" is able to the mimic border conditions a real Mars spacesuit would provide during a surface EVA | Austrian Space Forum, Sillufer 3a, 6020 Innsbruck, Austria | Dr. Gernot Groemer |
| CLIFFBOT CRV | Cliffbot rover vehicle - terrain trafficability | Association Planète Mars, FR | Dr. Alain Souchier |
| DELTA | Human factors - work economics, time delay A.X vs unsuited | Austrian Space Forum, AT | Alexander Soucek, MLaw, MSS |
| Deployable Shelter | Deployable Emergency Shelter suitcase for astronauts | Vienna University of Technology, AT | Dr.-Ing. Sandra Häuplik-Meusburger |
| ERAS C3 | Command & Control software project for data processing in the field | Mars Society Italy, IT | Franco Carbonari |
| Geosciences | Geoscience remote science support experiments; includes the management of all geophysical and astrobiological research activities | University of Budapest & University Innsbruck | Dr. Michael Rampey |
| Hunveyor-4 | Surveyor-class robotic lander with remote access | Eötvös Loránd University Budapest, HU | Dr. Gyorgy Hudoba |
| LTMS-MOROCCO | Long term medical monitoring system, biomedical chest vest | CSEM, CH | Dr. Marc Correvon |
| Magma-White Rover | Pathfinder-class rover system, mobility & human-robotic interaction | ABM Space Education & Mars Society Poland, PL | Mateusz Józefowicz |
| MAT-EP | Routine medical survey during OEWF field campaigns; includes a field incident reporting system | Medical University Innsbruck | Univ. Prof. Dr. Thomas J. Luger |
| MEDIAN | Methane Detection by In-Situ Analysis with Nano-Landers | University College London, UK | Jane MacArthur, BSc |
| microEVA | Luminescence detection of viable bacterial spores and terbium microspheres | NASA Jet Propulsion Laboratory, California Institute of Technology | Dr. Adrian Ponce |
| OPS-Box-White | OPS-Box-White | Austrian Space Forum, Sillufer 3a, 6020 Innsbruck, Austria | Dr. Gernot Groemer |
| Peniculus | Peniculus | Austrian Space Forum, Sillufer 3a, 6020 Innsbruck, Austria | Dr. Gernot Groemer |
| Puli-Rover | Mobility tests for the Hungarian GLXP rover | GLXP Space Technologies, HU | Dr. Tibor Pacher |