Morocco MARS2013
Deployable Shelter
Deployable Shelter
Last modified by
vstix
on 2018/08/16 13:17
---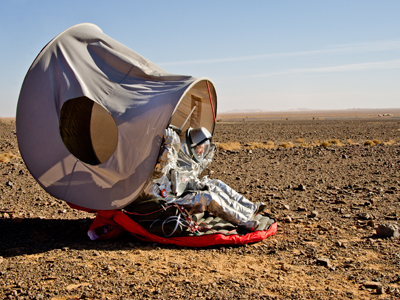 Synopsis: Deployable and portable emergency shelter suitcase for astronauts
Institution (PI): Vienna University of Technology, AT (Dr.-Ing. Sandra Häuplik-Meusburger)
Responsible on-site: Polina Petrova, Vienna University of Technology
Summary
Test of a deployable and portable multipurpose (emergency) shelter prototype in case of emergency that requires immediate action and where return to the base / rover is not possible in time.
The deployable shelter is compactly packed, lightweight and be carried by one astronaut. It shall be easy to deploy and accommodate up to two astronauts (with space suits). The Shelter shall be provided for a minimum duration but up to 48h until rescue arrives or immediate emergency ceases.
Objectives
The prototype is a simplified mock-up of a deployable pneumatic structure. An outer layer provides protection and can be adjusted to the topological conditions of the deployment site (rocks, uneven terrain, etc.) The volume and shape is controlled by a mechanical device of rigid foldable frame elements.The main goal of the prototype is the simulation of its operability, durability (multiple deployments), function (human / equipment shelter) and adaptability.
Experiment Data
Additional Publications
| References | Access |
| --- | --- |
| Häuplik-Meusburger, S., & Petrova, P. (2013). MASH deployable emergency shelter on mars; design studio 2012/13. Vienna: Vienna Univ. of Technology, Inst. of Architecture and Design. | |
| Häuplik-Meusburger, S., Petrova, P., Evetts, S.N., Sivanesan, C., Groemer, G.,& Lu, S.-H. (2013). Deployable and portable emergency shelter for mars. Proceedings of the International Astronautical Congress, IAC. 3. 1777-1787. | |