Fotos zum honorarfreien Abdruck
Hier können Sie die Fotos der Dachstein Mars Simulation 2012 downloaden. Veröffentlichungen im Rahmen der Berichterstattung zur Dachstein Mars Simulation sind kostenlos. Bitte nennen Sie immer den angegebenen Copyright-Vermerk.

Photos for royalty-free reprint
Photos of the Dachstein Mars Simulation 2011 can be downloaded here. Publications which are part of reporting about the Dachstein Mars simulation are free-of-charge. Please use the corresponding copyright note!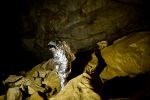 Anzugtester Daniel Schildhammer in der Dachstein Rieseneishöhle
Suit tester Daniel Schildhammer at the Dachstein giant ice cave
Copyright: (c) OEWF (Katja Zanella-Kux)
download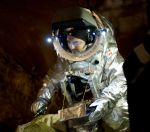 Anzugtester Daniel Schildhammer bei der Probenentnahme in der Dachstein Rieseneishöhle
Suit tester Daniel Schildhammer taking samples at the Dachstein giant ice cave
Copyright: (c) OEWF (Katja Zanella-Kux)
download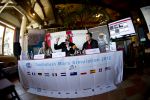 Pressekonferenz (v.l.) mit VDir. Alfred Bruckschlögl (Dachstein AG), Dr. Gernot Grömer (Österreichisches Weltraum Forum), Mag. Egon Höll (Bürgermeister Obertraun)
Press conference (from left) with VDir. Alfred Bruckschlögl (Dachstein AG), Dr. Gernot Grömer (Austrian Space Forum), Mag. Egon Höll (Mayor Obertraun)
Copyright: (c) OEWF (Katja Zanella-Kux)
download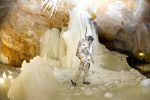 Anzugtester Daniel Föger im Tristan Dome der Dachstein Rieseneishöhle
Suit tester Daniel Foeger at the Tristan dome in the Dachstein giant ice cave
Copyright: (c) OEWF (Katja Zanella-Kux)
download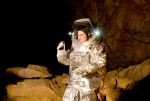 Anzugtester Daniel Schildhammer im King-Arthur Dome, Dachstein Rieseneishöhle
Suit tester Daniel Schildhammer at the King Arthur dome in the Dachstein giant ice cave
Copyright: (c) OEWF (Andreas Köhler)
download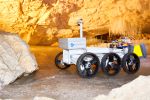 Magma White mit montiertem WIDSOM Radar (vorne) der Polnischen Mars Society & ABM Space Education im Parsival Dome, Dachstein Eishöhlen
Magma White with mounted WISDOM radar of the Polish Mars Society & ABM Space Education at the Parsival Dome, Dachstein Ice caves
Copyright: (c) OEWF (Andreas Köhler)
download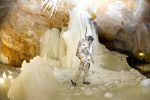 Anzugtester Daniel Föger im Tristan Dome der Dachstein Rieseneishöhle
Suit tester Daniel Foeger at the Tristan dome in the Dachstein giant ice cave
Copyright: (c) OEWF (Katja Zanella-Kux)
download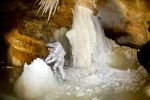 Arbeiten im Raumanzugssimulator im Tristan Dome der Dachstein Rieseneishöhle
Working with the spacesuit simulator at the Tristan dome in the Dachstein giant ice cave
Copyright: (c) OEWF (Katja Zanella-Kux)
download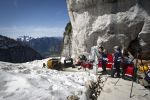 Anziehen mit Ausblick - vor der Höhle wird das Donning (Anziehen) des Raumanzugssimulators durchgeführt. Im Hintergrund sieht man den Hallstättersee
Donning with view - in front of the cave entry the spacesuit simulator is donned. In the background lake Hallstaettersee
Copyright: (c) OEWF (Katja Zanella-Kux)
download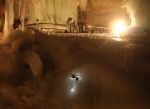 Cliffbot auf seinem Weg über die Klippe im Tristan Dome der Dachstein Eishöhle, gesteuert vom Aouda.X Anzugsimulator
Cliffbot on it's way of a cliff at the Tristan dome (Dachstein giant ice cave), conducted by the Aouda.X spacesuit simulator
Copyright: (c) OEWF / Association Planète Mars (APM)
download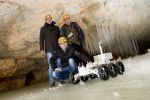 Magma White rover mit dem polnischen ABM Space Education team
Magma White rover with Polish ABM Space Education team
Copyright: (c) OEWF (Katja Zanella-Kux)
download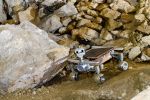 Asimov Jr. R3 Rover der Part-Time Scientists (Google Lunar X-Prize team) im King Arthur Dome in der Dachstein Eishöhle
Asimov Jr. R3 Rover of the Part-Time Scientists (competitor oof Google Lunar X-Prize) inside the King Arthur dome of the Dachstein giant ice caves.
Copyright: (c) OEWF (Katja Zanella-Kux)
download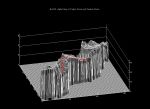 M.A.R.S (Mission Assets and Resource Simulator) digitale Karte des Tristan und Parsival Domes
M.A.R.S (Mission Assets and Resource Simulator) digital Map of Tristan Dome and Parsival Dome
Copyright: (c) Österreichisches Weltraum Forum (OEWF)
download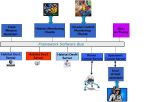 Funktionsgrafik des ERAS Kommando-, Kontroll- und Kommunikationssystem (C3)
Chart of the ERAS Command, Control and Communicationsystem (C3)
Copyright: (c) Italien Mars Society
download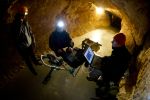 Das Team des WISDOM Radar in der Dachsteineishöhlen bei Messungen
The team of WISDOM radar inside the giant ice cave making measurements on the ice
Copyright: (c) OEWF (Katja Zanella-Kux)
download